Oscar-winning Austrian Holocaust Drama THE COUNTERFEITERS
Deals Powerfully With Moral Choices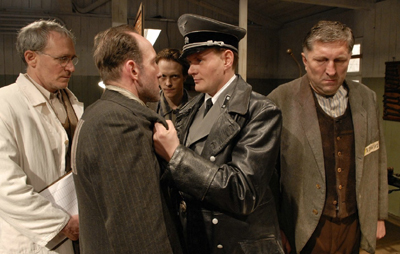 Photo caption: Sturmbannführer Herzog (Devid Striesow) threatens master
forger Salomon Sorowitsch (Karl Markovics) in THE COUNTERFEITERS
Special to FILMS FOR TWO®
by Alan Waldman
THE COUNTERFEITERS, winner of the 2008 Best Foreign Language Film Academy Award, is a compelling, dramatic movie that relates the true story of a Russian-Jewish forger who was compelled to counterfeit U.S. dollars and British pounds at the Sachsenhausen concentration camp, as part of a mad Nazi scheme to flood the market with them and destroy the American and English economies.
Although we have been deeply moved by many movies dealing with the Holocaust during the past 48 years, over time we have tended to avoid those grim ones that primarily dealt with the horrors of the camps. So when we see a film that takes a fresh, unexpected approach to the Holocaust, we usually enjoy it very much.
SCHINDLER'S LIST, a great film which won seven Oscars (including Best Picture, Best Director and Best Screenplay) and 63 other major world honors, dealt with Oskar Schindler, a German industrialist/scam artist who saved the lives of more than 1000 Polish Jews during World War II by employing them in his munitions factory. The film does not spare us the horrifying brutality and arbitrary murders in the concentration camps. By the end, we forgive Schindler his collaboration with the Nazis and his womanizing and are grateful to him for saving as many people as he did.
Another wonderfully original movie, LIFE IS BEAUTIFUL, which was nominated for seven Oscars and won three (including Best Foreign Language Film and Best Actor for brilliant Roberto Benigni), as well as earning 52 other awards in 13 countries, took a highly original approach. In it, Benigni's character, his wife and his little boy are put in a concentration camp, where he hides the child and convinces him that everything that is happening to them is a game/contest, and that the winner will receive a tank. Despite the tragic outcome, this touching film surprisingly contains a lot of great comedy.

THE COUNTERFEITERS dramatizes the moral choices made by a group of prisoners (professional printers, graphic artists and typographers) who can either decide to save their own lives by participating in the currency-forgery scheme or refuse to do so and face certain death.

The film is based on a memoir by Adolf Burger (now in his 90s and living in Prague) about his 1942-45 involvement with the Nazis in the largest counterfeiting operation in history (in which 8,965,080 banknotes worth £134,610,810 were produced for global distribution. They are considered among the most perfect counterfeit bills ever produced.)


Photo Credit: Jat Jurgen Olczyk © Beta Film GmbH.
Courtesy Sony Pictures Classics.
All Rights Reserved.

The character based on Burger chooses to resist the Nazis (risking everyone's life) by continually sabotaging the operation. The central character, Salomon Sorowitsch (very effectively played by Karl Markovics) was based on real-life forger Salomon Smolianoff, who died in Argentina in the 1960s, remaining an art forger (specializing in Old Masters paintings that he "discovered") to the end.


Writer-director Stefan Ruzowitzky
Photo Credit: Jat Jurgen Olczyk © Beta Film GmbH.
Courtesy Sony Pictures Classics.
All Rights Reserved.


In addition to its Oscar, THE COUNTERFEITERS was nominated for seven German Film Awards (best feature film, best screenplay [Stefan Ruzowitzky], cinematography, production design, costume design and actor [Karl Markovics]—winning for supporting actor Devid Striesow (who played Sturmbannführer Friedrich Herzog). Writer-director Ruzowitzky was nominated for the Golden Bear at the Berlin Film Festival. He had also won nine international awards and four other noms for three of his other films (THE INHERITORS, ANATOMY and TEMPO).

Through August 10, 2008, the film earned $5,480,350 in North America in 25 weeks and had huge foreign boxoffice through July 6: $11,996,841 in 38 countries. Its biggest overseas markets were Spain ($3,806,912), home country Austria ($1,839,503), Australia ($1,341,825), UK/Ireland/Malta ($1,317,395), Mexico ($649,613) and Germany ($575,105).

Audiences loved it. Of 6,693 viewers who rated it at the Internet Movie Database through August 12, 2008, an astonishing 95.7% gave it positive ratings (average 7.7 out of 10) and 11.5% gave it a perfect 10. All demographic groups liked it, rating it 7.5 or better. Girls 17 and younger liked it best, rating it 8.2 out of 10, followed by women 45 and older (7.9) and women 18-29 and (7.8).

The DVD came out in the U.S. on August 5, 2008.


Photo Credit: Jat Jurgen Olczyk © Beta Film GmbH.
Courtesy Sony Pictures Classics.
All Rights Reserved.
Early on in the film, we see Salomon, widely considered "king of the forgers," creating an Argentinean passport for a woman who wishes to flee from Nazi Germany. The police, headed by officer Friedrich Herzog, arrest him and put him in prison. Over time, Salomon is sent to Mauthausen concentration camp, where he avoids death by painting flattering portraits of his captors and their families and by creating heroic posters of "proper" Aryans.

Photo Credit: Jat Jurgen Olczyk © Beta Film GmbH.
Courtesy Sony Pictures Classics.
All Rights Reserved.

Several years later, Salomon is transferred to the Sachsenhausen concentration camp, where the cop who arrested him has become Sturmbannführer Herzog. The officer explains that Salomon and a group of new arrivals with special skills are there to participate in "Project Bernhard," which seeks to destabilize the British and American economies by producing and distributing huge quantities of forged banknotes. The prisoners are given good food, soft beds, decent clothing, piped-in classical music and other comforts denied the other concentration camp inmates.

The newcomers meet the large team already working on the project (more than 100 specialists), and Salomon is made its leader, in charge of quality control. When the first batch of pound notes in various denominations is shown to Swiss and British bank officials, both declare them to be genuine.
As the war is approaching its end, the dollar becomes the group's priority. A member of the group contracts tuberculosis, but no drugs are available to treat him. Meanwhile, Burger has become critical of their collaboration with the Nazis and declares his intention to sabotage the dollar effort. After some delays, Herzog warns the forgers that if they do not produce a perfect dollar soon, five of them will be shot.

Salomon promises to meet the deadline if he receives drugs to treat his friend's TB. Herzog agrees, but soon he has the sick friend shot, ostensibly to save the others from the illness.

As the dollar forgery is completed, the team is told to pack up all their gear so that they can be moved to safety, ahead of the advancing Allied troops. One morning they awake to find all the German guards are gone. The walls of their compound are knocked down and they are confronted by a threatening mob of prisoners, who do not believe they are concentration camp inmates. To find out what happens next, rent the DVD.
(Alan): I enjoyed THE COUNTERFEITERS and thought it was very well-directed, -acted and -produced. The characters were interesting, and there was consistent dramatic tension. Markovics was particularly strong as the strange lead counterfeiter. The story had several effective surprises, and there was a strong feeling of reality.

(Sharon): I have a hard time watching films about the Holocaust because they affect me so deeply. I was a teenager when I saw THE DIARY OF ANNE FRANK, and ever since then, I take the films very, very personally. The cruelty and betrayal in THE COUNTERFEITERS is upsetting, but the story is so unusual, I was intrigued. You really care for these prisoners in their moral dilemma, and the suspense builds as you wonder what will happen to them.

© Alan and Sharon Waldman (8/12/08)
************
| | |
| --- | --- |
| | Alan and Sharon Waldman have written tributes to Heath Ledger, Robert Shaw, Deborah Kerr, Roy Scheider, Sydney Pollack and Paul Scofield for FILMS FOR TWO. Alan has written another 20, including salutes to Peter O'Toole, Alan Bates, James Coburn, Gregory Peck, Marlon Brando, Sidney Lumet, Anne Bancroft, Martin Scorsese and Arthur Miller. Sharon wrote FF2's tribute to Katherine Hepburn. For The Hollywood Reporter, she has interviewed Shirley MacLaine, Jack Lemmon, Ron Howard and Brian Grazer. |
Between them, the Waldmans have written more that 2000 articles published in more than 60 newspapers and magazines, including TV Guide, The Hollywood Reporter, Honolulu, Texas Monthly, Los Angeles Times, Houston Business Journal, Fancy Food and Boatmaster, winning five local, state and national awards in the process. Sharon recently copped the "Cutest Wife in Corvallis, Oregon" award. And for two years in succession, Alan won the local "Guess the Age of the Hen" competition—although he admits it was a lot easier the second time.
Back in 1968, Sharon and Alan played the leads in The Taming of the Shrew"—unfortunately, he was in New York City and she was in Minneapolis at the time. Today, they like to practice the "wooing scene" at home.