2010 Update: More Hyde Park Ink!

Standing in front of 5339 South Harper…
our first apartment together!

"I am glad I can write about arts and culture to help humanize what people are quick to demonize."

Click HERE to read Daschell Phillips'
complete article on Jan in
the 7/21/10 issue of the Hyde Park Herald.
WITASWAN GETS MORE NEW INK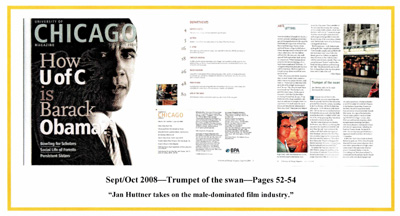 Trumpet of the swan
Jan Huttner takes on the male-dominated film industry
By Ruth E. Kott

If you saw Sex and the City this summer, you were supporting more than the popular HBO franchise about four powerful New York City women. According to Jan Lisa Huttner, AM'80, the film's box-office gross—$150 million as of the end of July—affirms that movies marketed primarily to females can succeed, a fact that Hollywood has been slow to realize. In 2007 only five of the 50 top-grossing films were about or starred women in strong roles.
But the hordes of gal pals who flooded the theaters, says Huttner, are showing film executives that superheroes aren't the only story lines that sell. "Most women in the audience still don't realize the impact of their decisions," she wrote July 30 in TRACTIOn, an online magazine for women in the television and film industries. "How often have I been told: 'There's nothing good in theatres anymore.' Or worse: 'I wanted to go, but my husband won't see chick flicks.'"
To combat this "lose-lose mentality," in 2004 Huttner, along with members of the American Association of University Women–Illinois, formed a movement in which participants pledge to see more films by women directors and screenwriters, whether in theaters or on DVD. Called WITASWAN (Women in the Audience Supporting Women Artists Now), the aim is to generate media buzz and money for a more female-friendly film market…
Click here to read complete article online.
Magazine copy begins on page 52.



Photos above show Jan at one of her most frequent haunts,
Landmark's Century Center Theatre, in Chicago,
site of the last three annual WITASWAN programs:
March 18, 2006
March 31, 2007
March 29, 2008
All Photo Credits © Dan Dry. All Rights Reserved.
Visit Dan Dry's Website