More than 200 people crowded into the Claudia Cassidy Theater at the Chicago Cultural Center on Saturday, March 19, 2005, to watch A JURY OF HER PEERS, the feminist classic directed by Sally Heckel. Originally released in 1980, the 30-minute Oscar-nominated feature has recently been re-released by the Manhattan-based distributor "Women Make Movies."

Four local women's organizations co-sponsored this Silver Anniversary celebration: AAUW-Illinois (the American Association of University Women), CAWHC (the Chicago Area Women's History Council), IWPA (the Illinois Woman's Press Association) and WIDC (Women in the Director's Chair). The Saturday afternoon program was just one set of events in WIDC's 24th annual festival, which ran a full five days from Wednesday to Sunday. This was the first year, however, that WIDC's objectives were publicly supported by three other women's organizations, coming together under the banner of WITASWAN ("Women in the Audience Supporting Women Artists Now!").

After the screening, Ms. Heckel fielded questions, then the bulk of the audience streamed into a nearby lecture room to hear Patricia Bryan and Thomas Wolf discuss their new book Midnight Assassin: A Murder in America's Heartland. Ms. Bryan is a professor of law at the University of North Carolina and Mr. Wolf, her husband and collaborator, is a graduate of the Iowa Writer's Workshop. Their book's formal release date was April 1st, however, given the fact that it analyzes the real case on which JURY is based, the publisher, Algonquin Press, agreed to have copies available for the Book & Tape Signing Reception at La Strada Restaurant which followed the lecture.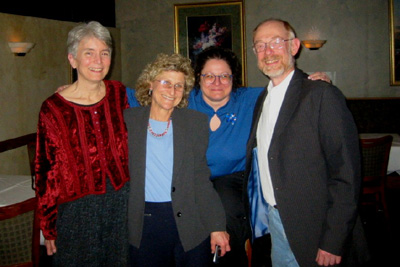 Celebrating at the end of a perfect day!
(l to r: Sally Heckel, Patricia Bryan, Jan Lisa Huttner & Thomas Wolf)
Photo Credit: Phil Heckel
(Professor of Geology at the University of Iowa & very proud brother of the filmmaker!)
None of this could have happened without the hard work of many staff members at the Chicago Cultural Center, most especially Marianne Wolf-Astrauskas, the CCC's Director of Volunteers. Marianne, herself an IWPA member, was the key link between WITASWAN and WIDC during the planning phase, and she personally coordinated the mailing of thousands of flyers.
President Kim Benziger lead the AAUW-Illinois Team, assisted by Mary McNulty, Alexis Reese, Barbara Spiegel and Barbara Zeitz; the CAWHC Team included President Mary Ann Johnson and Founder Jean Hunt; and the IWPA Team consisted of Marion Gold, Cecilia Green, and Linda Heacox. Each of these ladies distributed flyers, sent eLinks, staffed literature tables before the screening, and helped people circulate at the reception. IWPA Past-President Marion Gold also created and raffled off a fabulous gift basket to help cover ancillary PR costs. The overall WITASWAN Coordinator was Jan Lisa Huttner, working in close cooperation with WIDC's Programming Director K.J. Mohr.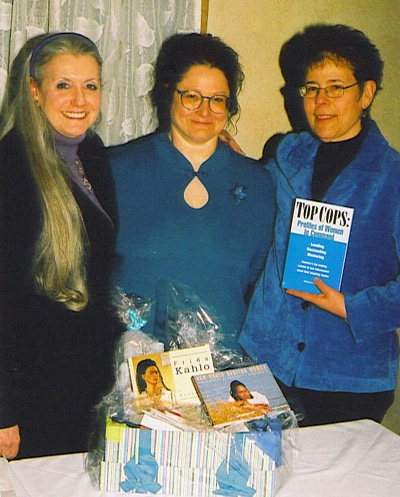 Jessica Weissman was the lucky winner
of Marion Gold's fabulous gift basket.
(l to r: Marion Gold, Jan Lisa Huttner & Jessica Weissman)
Photo Credit: Suzanne Hanney/IWPA
Everyone agrees that the day was a huge success, and people all over Illinois are wondering what WITASWAN will do as an encore next year when Women's History Month rolls around again in March 2006!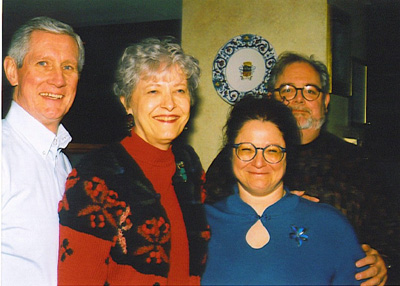 Jan & Rich (right) pose with Bob & Kim Benziger. Kim is the President of AAUW-Illinois, the organization that originally conceived of & founded WITASWAN.
Photo Credit: Suzanne Hanney/IWPA
Click here to read Brian Bergen-Aurand's report for CLAMOR Magazine.