Illinois-residents Met Martha in person this April!
Martha Richards, the Founder and Executive Director of The Fund for Women Artists is one of three U.S. nominees for the 2007 Montblanc de la Culture Award. The other two U.S. nominees for this prestigious award are Quincy Jones & Wynton Marsalis.
Created in 1992, the Montblanc de la Culture Award is an "Oscar of the Arts" designed to honor people around the world who sustain the arts for future generations. The award is one of several initiatives sponsored by Montblanc, a company with a 100-year history of supporting art and culture worldwide.
"The Fund for Women Artists is thrilled by the growing international recognition of women's cultural contributions," said Martha Richards. "This nomination is another affirmation of the value of the women artists that we work so hard to serve."
Montblanc is a proud sponsor of New York's Tribeca Film Festival this year, and the Montblanc de la Cuture Award will be presented at a special star-studded invitation- only ceremony at the festival. The Tribeca Film Festival runs from April 25 to May 6.
For more information, visit: tribecafilmfestival.org
For more information about Montblanc, see: www.montblanc.com
If you live in Illinois, you can meet Martha
in person in Bloomington on April 28
& in Chicago on April 30: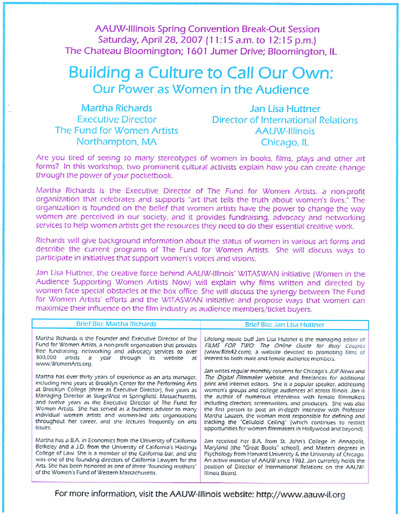 You do NOT have to be a member of AAUW-Illinois
to attend this one session for free!
If you would like to come, please e-mail Jan or call 312.663.5832
Click here for more information about AAUW-Illinois
(including complete Spring Convention details).
Click here to download a pdf with relevant details.

Click here to visit the Fund for Women Artists website.
Click here for a full profile of Martha Richards.