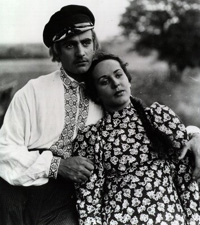 When the film begins, Chava
& Fyedka are already in love.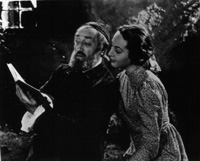 Tevye grows suspicious,
when Chava tells him that
Fyedka is a "second Gorky."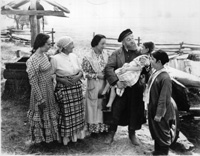 After Motel dies (off camera),
Tzeitel brings her children home
to live with Tevye & Golde.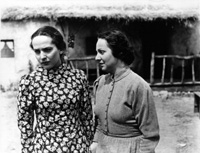 Tzeitel guesses what's up & warns
Chava not to marry Fyedka.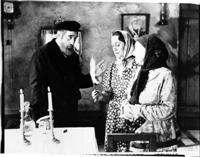 After Chava's marriage, Tevye
decrees that he, Golde & Tzeitel
will mourn for her as soon as
the Sabbath ends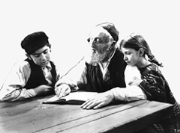 Tevye teaches his grandson
Shloimele Hebrew prayers.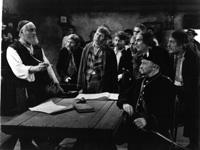 The constable forces Tevye to
sign the official edict expelling
him from the village.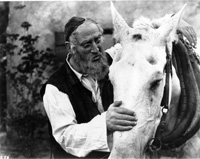 Tevye says goodbye to his horse.

Exciting news for lovers of Yiddish theater: the National Center for Jewish Film at Brandeis University has just released a new DVD version of Maurice Schwartz's 1939 classic TEVYE. The film has been restored with great care in richly textured black and white from an original nitrate print. Solomon Secunda's wonderful score also went through a digital clean-up.

Schwartz's version is loosely-based on two of Sholem Aleichem's eight TEVYE THE DAIRYMAN stories: CHAVA from 1905 and LEKH-LEKHO from 1916 (with one comic scene thrown in out-of-context from the first story TEVYE STRIKES IT RICK). Those coming to TEVYE from stage and/or screen versions of FIDDLER ON THE ROOF will be very surprised; Hodel, Motel, Perchik, Yente, and other beloved characters are nowhere to be seen. TEVYE contains a whole new cast of characters, most of whom do not appear in Sholem Aleichem's original stories either.

The focus of Schwartz's version is on Chava's marriage to Fyedka, and more than anything else, it captures the deep despair and foreboding occasioned by Krystallnacht. Therefore, key roles are played by Fyedka's non-Jewish parents (the despicable Galagans) and the Russian Orthodox priest. But the darkness is balanced by the introduction of Tzeitel's two young children: Shloimele and Perele.

Cinephiles should also adjust their expectations. 1939 was the extraordinary year when Hollywood released timeless gems such as MR. SMITH GOES TO WASHINGTON, NINOTCHKA, OF MICE AND MEN, STAGECOACH, THE WIZARD OF OZ, WUTHERING HEIGHTS, and of course, GONE WITH THE WIND. But even though it is relatively primitive cinematically, TEVYE is extraordinary as a recorded play.

Although Schwartz opened the frame with some outdoor location shots, all of the most moving moments occur inside the house. Of particular note are a luminous Havdalah ceremony, the scene in which Tevye tenderly teaches Shloimele how to chant daily prayers, and the wordless but intensely emotional sequence in which Tevye packs his books after he's ordered to leave the village. These scenes are likely very similar to their original theatrical staging.

Schwartz, who was born in the Ukraine in 1890 and died in Tel Aviv in 1960, founded New York's world famous Yiddish Art Theatre in 1926. He acted in both American and European films, appearing on screen for the last time as the prophet Daniel in the 1953 Hollywood feature SLAVES OF BABYLON. Extras on the new NCJF DVD include clips from two of his best known roles: "Leybke" in the 1924 silent film YISKOR and "Moses" in the 1932 screen adaptation of Solomon Asch's play UNCLE MOSES.

In 1991, the Library of Congress added TEVYE to the National Film Registry, thereby naming it one of the greatest American films of all time.


© Jan Lisa Huttner (12/1/04)

FF2 NOTE ON NAMES:

The Yiddish language is written with Hebrew characters, therefore various authors use different English transliterations. In this article, I have used the name spellings used in FIDDLER ON THE ROOF under the assumption that they are familiar to most readers. The chart below maps the names from FIDDLER to the names that appear in the TEVYE subtitles.
| | | |
| --- | --- | --- |
| TEVYE Names | FIDDLER Names | Actor's Names |
| Khave | Chava | Miriam Riselle |
| Fedye | Fyedka | Leon Liebgold |
| Golde | Golde | Rebecca Weintraub |
| Perele | NA | Betty Marcus |
| Shloimele | NA | Vicki Marcus |
| Tevye | Tevye | Maurice Schwartz |
| Tseytl | Tzeitel | Paula Lubelski |
FF2 ACKNOWLEDGEMENTS:
FF2 gratefully recognizes Sharon Pucker Rivo, Executive Director of the National Center for Jewish Film, for her input on this article, as well as John Quackenbush, who provided all the e-files.
All photographs on this page are Courtesy of NCJF.

FF2 UPDATE
Message from Paul Glasser at YIVO
(received 12/30/09)
Dear Jan Lisa Huttner,
That's a lovely write-up of "Tevye" on your website! One correction, however: the movie was based on the untranslated play "Tevye the Dairyman" that Sholem Aleichem himself adapted from his stories. That explains the disparity between the stories and the movie. However, the scene thrown in for comic relief out of "Tevye Strikes it Rich" is not present in the play either.
Dr. Paul (Hershl) Glasser
Associate Dean, Max Weinreich Center
Senior Research Associate, Yiddish Language
YIVO Institute for Jewish Research
Reply to Hershl from Tzivi:
Correction much appreciated!