Watching LOST EMBRACE is such an effortless experience that this sweet little movie only becomes really special upon reflection. The latest film by Jewish-Argentinean director Daniel Burman, LOST EMBRACE was a multiple award-winner at home & this year's candidate for the Best Foreign Language Oscar from Argentina. It's currently playing in Manhattan, & will open locally at Chicago's Music Box Theatre on March 4th.

Seeking to entice art house audiences, American critics are comparing LOST EMBRACE to a Woody Allen movie, but that's wrong. Mr. Burman, who was born in 1973, is very close in age to Zach Braff, & his alter-ego Ariel (played by Daniel Hendler) shares many generational quirks with Andrew Largeman, Braff's persona in GARDEN STATE. Neither character has Allen's neurotic & often misogynistic venom, both directors treat their extended families with tenderness rather than turning them into bitter caricatures, & both stories end with renewed appreciation of the fact that "there's no place like home."

When LOST EMBRACE begins, Ariel is a young man consumed with restless energy. He's so desperate to leave Buenos Aires that he applies for Polish citizenship. Asked why his grandfather left Poland and emigrated to Argentina in the first place, Ariel claims not to know, but of course he does know. When his grandmother digs into the past to find the Polish passports he needs to prove his ancestry, she also unlocks her own Holocaust memories. But Ariel is too self-absorbed to care; her transparent fear of Europe means nothing to him.

Reaching back across the generations in search of a new identity also enables Ariel to renounce his father, Elias, who left Argentina right after he was born. According to his mother Sonia, Elias flew to Israel in 1973 to fight in the Yom Kippur War, & while he still sends money and calls regularly, she has no apparent wish to see him. Instead she has romanticized their relationship, casting herself & Elias as Sophia Loren and Marcello Mastroianni in an imaginary remake of Vittorio De Sica's 1970 melodrama SUNFLOWER. But now that Ariel is determined to leave her, she suggests he go to Israel to visit his father. Even the Polish consular officer, probing Ariel's background, asks if he is "an Israelite." No, out of the question, the one thing Ariel refuses to be is Israeli.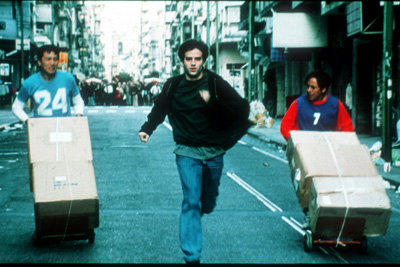 Ariel tries to run from his past in LOST EMBRACE.
Photo courtesy of New Yorker Films.
All rights reserved.
Ariel's life is a diasporic paradox. On the one hand, his family is spread across the continents. (While Ariel focuses on Europe, his older brother Joseph is wheeling & dealing by phone with a cousin in Montreal.) On the other hand, Ariel's own Buenos Aires, as depicted on screen, is clearly a modern shtetl. In the opening sequence, Ariel personally introduces us to his little world in a voice filled with the comic irony & richness of detail that has permeated Jewish literature since Sholem Aleichem.
The actors inhabit their roles with such specificity that the film has an almost documentary quality. Daniel Hendler's warmth is both sensitive & intellectual; he's much more handsome than Woody Allen, & far less goofy than Zach Braff. Jorge D'Elia, as father Elias, and Sergio Boris, as brother Joseph, both look & act as if members of a single gene-pool, & Adriana Aizemberg, as Sonia, has a sensuous sparkle that makes her an intriguing person in her own right rather than just another Jewish mother stereotype. But the buried treasure of LOST EMBRACE is Rosita Londner as Sonia's mother. A well-known & very popular star of Argentina's Yiddish Theatre, this is Londner's first major movie role, & she's delightful. Once grandson Ariel forces her to confront her past, joyful memories explode into long-suppressed Yiddish melodies that will resonate with Jewish audiences everywhere.
The characters in LOST EMBRACE live in the present. To get a feel for how they got to Buenos Aires & what they encountered once they arrived, watch UN BESO A ESTA TIERRA (A KISS TO THIS LAND), a 1995 documentary by Daniel Goldberg airing this month on the Jewish Broadcast Network. (The name "Daniel" certainly seems to be popular in the Spanish-speaking Jewish world!)
Goldberg's film is about Mexico, not Argentina, & yet for Jewish-Americans who rarely think about the Southern Hemisphere, there are many common elements. The great migration to the "Goldene Medina" that brought so many of our own relatives through Ellis Island ended in 1920 when the United States imposed strict immigration quotas after World War I. But the need to flee the ever-tightening knot of economic restrictions & political repressions continued unabated, and so Buenos Aires, Havana, & Mexico City all became major targets for pre-Holocaust immigrants.

The narrators of KISS are seven elderly Jewish-Mexicans. Five are Ashkenazim from Eastern Europe, one is a Sephardi from Turkey, & another is a Mizrachi from Syria, but they all left their families behind & entered Mexico in their teens through the Caribbean port of Vera Cruz. With no relatives & little money, they scraped by. Most were peddlers until they could save enough to become shop-keepers, then, slowly but surely, they began to prosper. They marry & multiply, building the religious & cultural infrastructure of new communities, & transmitting their values & traditions to new generations. In many ways, these stories are familiar, & yet the combination of Hebrew, Spanish & Yiddish is just as affirming in KISS as in LOST EMBRACE. Whatever their hardships, however huge the obstacles, the Jewish people are amazingly resilient!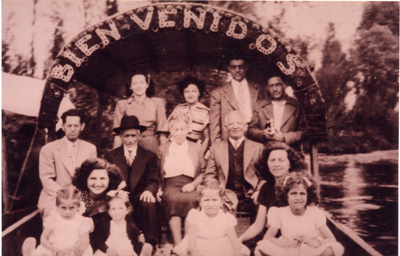 Jewish immigrants prosper in Mexico in A KISS TO THIS LAND.
Photo courtesy of Goldberg Lerner Productions.
All rights reserved.
© Jan Lisa Huttner (3/1/05)
FF2 ADDENDA
KISS is not available on DVD, but can be purchased
on VHS from the National Center for Jewish Film.
Click here to read Jan's review of GARDEN STATE.
FINAL FF2 NOTE:
This article is a slightly expanded version
of the reviews originally published
in the March 2005 edition of the
WORLD JEWISH DIGEST
(Volume 2 Number 6)
& is posted here with their permission.
For WJD subscription information:
Call 312.332.4172 extension 42
or
Fax 312.332.2119