Tzivi's Post-Fest Update:
October's 42nd annual Chicago International Film Festival included many outstanding new films, five of which (AVIVA MY LOVE, DAY NIGHT DAY NIGHT, FAMILY LAW, FLANNEL PAJAMAS, and THE FOUNTAIN) were directed by Jewish filmmakers. FAMILY LAW, FLANNEL PAJAMAS, and THE FOUNTAIN all have US distributors and will be coming to theaters in metro Chicago later this year. AVIVA MY LOVE received a special plaque from the CIFF jury (which praised its "fine screenplay reflecting the richness and irony of a creative woman's life"). Since it also won 6 "Ophir" awards from the Israel Film Academy in September (Best Film, Best Director, Best Screenplay, Best Actress, Best Supporting Actress, and Best Editing), we'll no doubt have more chances to see AVIVA as well. I met with filmmakers Darren Aronofsky (writer/director of THE FOUNTAIN), Jeff Lipsky (writer/director of PAJAMA), & Shemi Zarhin (writer/director of AVIVA), while they were in town. Check this page again when these films are released for more details.
The big surprise was DAY NIGHT DAY NIGHT by newcomer Julia Loktev, which received the FIPRESCI* Prize in the "New Directors" competition. This intensely-compelling film follows a suicide bomber for 48 hours as she prepares to detonate a back-pack full of explosives in Times Square. The character has no name, no backstory, and no explicit convictions. As Loktev explained during the Q&A session I attended: "I like movies that don't tell the audience what to think. I kept her motivations hidden so if you identify with her, you will feel bad about it. She believes in what she's doing, but we can't understand what or why."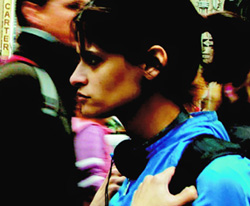 Novice actress Luisa Williams plays a suicide-bomber
in Julia Loktev's extraordinary new film DAY NIGHT DAY NIGHT.
FF2 is grateful to Masha Alexander, the CIFF's Media Relations
Coordinator, for all her help in obtaining background info & photos.
DNDN photo courtesy of Julia Loktev. ALL RIGHTS RESERVED.
For the first 24 hours, we live through the planning phase; in the next 24 hours, we live through the execution phase. What seems well-defined and precise inevitably turns chaotic as the would-be bomber leaves her ideological bubble and re-enters the booming, buzzing confusion of real life. The CIFF's FIPRESCI jury called DAY NIGHT DAY NIGHT "pure and innovative cinema." It is shocking, sobering, and completely heart-breaking.
© Jan Lisa Huttner (10/20/06)
* FIPRESCI: Federation Internationale de la Presse Cinimatographique.

Second City
Tzivi's

"Sneak Peeks"
for the
42nd Annual CIFF

Oct 5 - Oct 19
2006
NEW FILMS BY JEWISH DIRECTORS
EXPECTED IN PERSON:
Darren Aronofsky, Jeff Lipsky, Julia Loktev, & Shemi Zarhin are all expected to appear in person at this year's CIFF. Aronofsky will also receive the "Emerging Visionary" award after THE FOUNTAIN screening scheduled for Monday night October 16th @ 7 PM.